<XIAC> Service Department
XIAC has a service department that uses equipment of the highest quality to perform complicated fault finding in electronic product counting machines of many brands. Not a counting machine? No problem, send us your request and we'll see what we can do for you.
The
PDI-1206
is a very successful and High Tech tool that we use for several years and is specifically designed to validate the
Cremer CF-1220
memory flap unit. Timing of it's valves and cylinders is very critical and so conventional fault finding in these units is usually a time consuming and expensive job. The performance of the memory flap unit is of utmost importance to guarantee accurate count results and optimum performance of your counting machine. The manufacturer does not offer an instrument for diagnosing these units and companies need to rely solely on visual checks. For this reason XIAC has designed a
P
erformance
D
iagnosing
I
nstrument that pinpoints problems in the unit and
guarantees
optimum performance.

Since 2008 we offer same diagnosing service for
King TC-8
and
King
TC-12
counters.
Our
indoor designed
Diagnosing Instrument checks the following 6 aspects that are related to a correct functioning of the memory flap unit.
Power supply to gate control board

Compressed air supply to memory flap unit

Gate control board

Valves (electrical and pneumatic characteristics @ multiple voltage levels)

Cylinders

Cylinder buffers (note: faulty cylinder buffers may cause gates to bounce)
Full detailed checking of the unit will take approx 30 minutes (single CF-1220), excluding the time it could require to have cylinders and/or valves replaced.

 

No machine parts need to be disassembled to perform the diagnoses. An optional physical inspection of the unit and its components will of course require the memory flap unit to be disassembled from the machine. XIAC recommends diagnosing the memory flap unit every 6 months.
We are the
only
company that has the equipment to perform these diagnoses and we do this all around the world, you can request a quote by sending email to services@xiac.com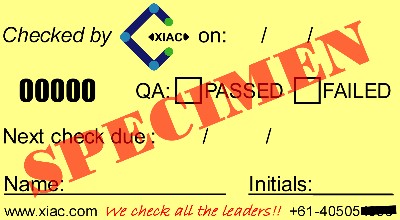 After completing the diagnoses, XIAC will place this sticker on your memory flap unit indicating if it has or hasn't passed quality assurance. We can replace the faulty parts for you (we only use genuine

Cremer

spares), or you can choose to have them replaced by your fitters.