King TB5 with UBCD Retrofitting & Maintenance Project
This King machine dates from approximately 1975. The counter TB5 is in very bad condition, the bottle indexer UBCD is in a reasonable condition. Over the next months we're going to retrofit the TB5 + UBCD with brand new electronics. Before doing so, we will first pay attention to do overall maintenance to the TB5 and later to the UBCD.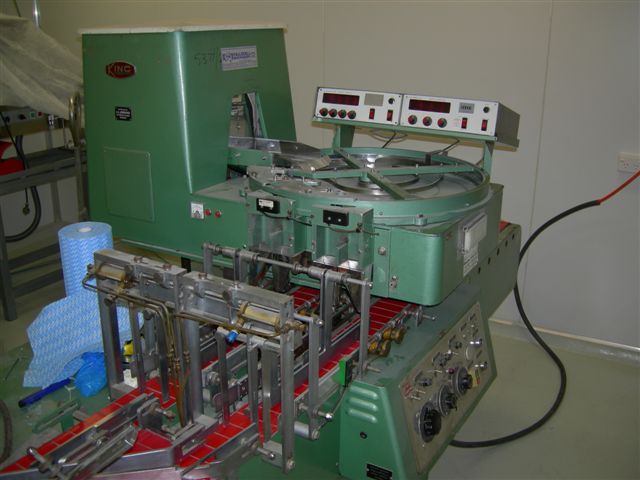 Picture of TB5 + UBCD in original condition (10 February 2009)
What is going to happen over the next couple of months:
Click the blue links to view the pictures!
Maintenance of TB5 turntable and motor (completed 13-03-2009)

Maintenance of "Door Assy" (completed 9-04-2009)

Repair & Reconditioning of original C.E. KING Batch counters (completed 12-05-2009)

Reconditioning of the Hopper Vibrator (completed 18-06-2009)

Maintenance of the TB5 "Scroll Assy"

Replace old nixie tube batch counters by a Touch Screen Terminal (HMI)

Replace old transistor type electronic eyes by 21st century electronics that also detect clear gel capsules

Replace control of bottle index system by a modern PLC

New pneumatic valves and solenoids for bottle index and bottle director cylinders

Repair or replace 6 bottle sensors

Replacement of conveyor motor drive belt

Install frequency inverters for 3 phase motors to make machine working on 1phase + N rather than 3phase + N

Install DC motor drives to replace old variac dials

Triac control of vibratory feeder to replace variac dial

Cleanup, grease & lubrication jobs

Others jobs not yet accounted for.
After completion of all jobs, the retrofitted machine will be for sale and will be in a better than new condition!
Contact us to arrange an inspection!